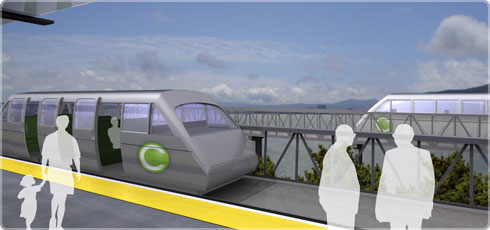 About eTranzUSA
Leonard Catanzaro, President, Chairman of the Board. – 38-year business owner and operator in the San Francisco Bay Area, former Design Review Board Member, City of Antioch, with experience in construction and real estate development consulting. His efforts will be focused on obtaining government approvals, oversight of construction of the initial TOD's, and securing additional projects in California, the U.S. and Canada. He will serve on the Board of Directors for CyberTran California.
Allen Payton, CEO, Vice Chairman of the Board. – Entrepreneur with experience in two successful start-ups, former Antioch City Councilman and Contra Costa Transportation Authority Commissioner, as well as Chairman and Member of four other transportation Committees, overseeing highway and transit expansion. B.S., Public Administration/Political Science and Business Administration-Marketing. He will focus on obtaining government approvals and rights-of-way, as well as securing additional projects in California, the U.S., Central and South America, and Europe. He is also serves on the Board of Central Transit & Development Corp. and will serve on the Board of Directors of CyberTran California.
Robert Chew, Vice President, Business Development, Board Secretary. – Vice President of Business Development for RJC Consolidated, Inc. a seven-division company which includes water technology and transportation, as well as consulting for green technologies. He will focus on securing additional projects in both the U.S. and international markets, mainly in Asia.
Haywood Hawkins, Jr., Vice President, Finance, Board Treasurer. – 25 years experience in both residential and commercial real estate finance. He will work to raise funds for the three initial projects, as well as additional projects.